Judge sets new deadline in Charlie Gard dispute
Comments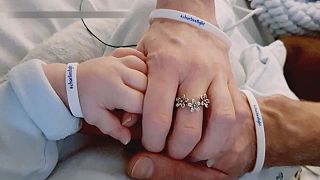 The mother of terminally ill baby, Charlie Gard, arrived at the High Court in London to be told they have until midday, UK time, on Thursday to reach agreement over her son's final moments.
Charlie's parents, Connie Yates and Chris Gard, have agreed he can be taken to a hospice to die but are still in dispute about how he will be cared for in his final days.
Speaking to reporters, Charlie Gard's godfather, James Evers, outlined Connie's ideal wishes for Charlie's end of care: "To take him home and spend a few days at home with him. To be able to do things that normal parents do with their babies," he said.
"To be able to bath him, cuddle him and just spend a few days at home, you know, and let him pass his days as a normal little baby. Unfortunately he's not allowed to do that, Great Ormond Street won't allow it. She has conceded to accept to go to a hospice to do this but they've now set some pretty arduous conditions to allow that to happen."
The couple have been involved in a bitter dispute with Great Ormond Street Hospital in London. Campaigns backing their hopes to have Charlie treated in the US have drawn international attention.
Charlie's parents accept he can die in a hospice and this latest deadline will force both sides to work out how that is done.