Vatican turns off fountains amid Italy drought
Comments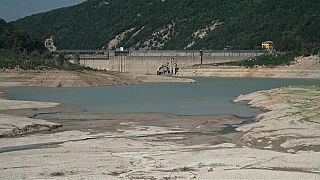 The Vatican has started switching off its fountains, including two Baroque masterpieces in St Peter's Square, to save water amid a prolonged drought.
It is Pope Francis's sign of solidarity with Rome where suffocating summer heat has followed two years of lower-than-average rainfall.
Vatican spokesman Greg Burke said it was the first time authorities in the spiritual home of the world's 1.2 billion Catholics could remember being forced to turn off the fountains.
All 100 Vatican fountains will be turned off gradually over the coming days.
#Vatican turns off its fountains due to #drought@pontifex#pope#PopeFrancis#climatechangehttps://t.co/E7DHV5X53s

— Ansa English News (@ansa_english) 25 juillet 2017
Caring for the planet and its resources is an important issue for Pope Francis, who demanded swift action by world leaders in the first ever papal document dedicated to the environment.
Rome is now facing the prospect of water rationing after regional authorities ordered a halt to drawing supplies from a drought-hit lake nearby.
The head of the local Lazio region, which is centred on the Italian capital, said the ban on withdrawing water from Lake Bracciano would come into force on July 28.
"Sadly, it is a tragedy," Nicola Zingaretti told Tgcom24 TV station.
"The truth is Lake Bracciano has fallen too much and we risk an environmental disaster."
Rome faces water rationing as drought ravages Italy https://t.co/913nmSwuROpic.twitter.com/G8x1CVyL8o

— The Local Italy (@TheLocalItaly) 24 juillet 2017
With 2017 likely to be one of the hottest years on record in Italy, many experts are blaming climate change.
In July alone, with some 72 percent less rain than normal falling, according to weather reports, Rome is gasping.
The drought has also hit around two-thirds of Italy's farmland, at a cost of 2 billion euros to the nation's agriculture industry.
Zingaretti said: "I would like to invite Donald Trump here to let him see what it means not to respect climate accords," referring to the US president's decision to pull his country out of the landmark 2015 Paris agreement.
with Reuters