Russian police to monitor Syrian "safe zones"
Comments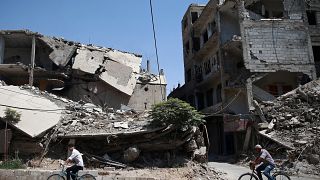 Russia says it has deployed military police to monitor two so-called "safe zones" being established in Syria.
Russian defence ministry spokesman, Leiutenent General Sergei Rudskoi, told journalists Russian forces had set up checkpoints in Eastern Ghouta and around a zone in the south-west.
"To ensure the cessation of fighting, the military police of the Russian Federation on July 21 and 22, deployed two checkpoints and 10 observation posts along the agreed sections of the contact line in the south-west zone of de-escalation," he said.
Syrian warplanes have carried out a number of air strikes in rebel-held Eastern Ghouta in the past few days.
Moscow plans to create four de-escalation zones in total.
The zones were agreed with Turkey and Iran but rebel groups have not formally signed up the agreement.