Trump son-in-law Kushner denies Russia collusion
Comments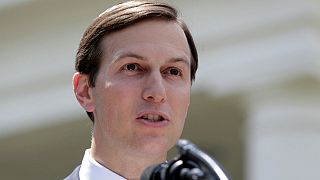 Jared Kushner, President Donald Trump's son-in-law and a senior White House adviser, detailed four meetings he held last year with Russian officials in a statement on Monday in which he also said he "did not collude" with Moscow during the 2016 U.S. election campaign.
Kushner, who met behind closed doors with Senate Intelligence Committee staff, issued a written statement before that session that gave the fullest account to date of his contacts with Russian officials during the campaign and the presidential transition.
Kushner, like Trump a businessman, portrayed himself as someone who was new to politics when he became a top adviser to his father-in-law's campaign and was often so frantic fielding phone calls and emails that his recollections of some meetings was somewhat hazy.
"I did not collude, nor know of anyone else in the campaign who colluded, with any foreign government," he said. "I had no improper contacts. I have not relied on Russian funds to finance my business activities in the private sector."
The Senate Intelligence Committee is one of several congressional panels investigating the Russia matter, along with a federal criminal probe led by special counsel Robert Mueller.
Speaking at the White House after the meeting, Kushner said all of his actions were proper and occurred within a "very unique campaign."
Kushner said Trump prevailed over his Democratic rival Hillary Clinton in November 2016 because he ran a "smarter campaign" and that to suggest otherwise "ridicules those who voted for him."