Two dead in shooting at Israel's embassy in Jordan
Comments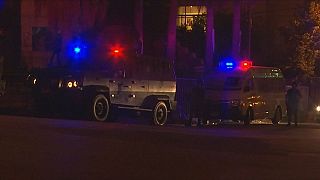 Two Jordanians are reported to have been killed and another wounded in a shooting incident at the Israeli embassy in Amman.
A police statement said the men were shot.
It follows increased tensions in the regions following the installation of metal detectors at a sacred site in East Jerusalem known as Haram al-Sharif to Muslims and the Temple Mount to Jews. Jordan is the custodian of the site.
On Friday thousands of people gathered in Amman protesting at the security measures.
Many of Jordan's 7 million citizens are of Palestinian origin after having fled during the fighting that accompanied the creation of Israel in 1948.