Maduro vows Venezuela vote will go ahead
Comments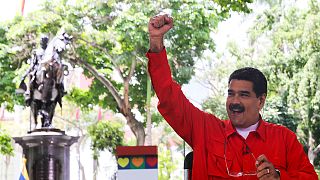 President Nicolas Maduro is pressing ahead with plans for a controversial election in Venezuela, despite claims that it is a move to institutionalise dictatorship.
Speaking on Sunday, with a week to go until the poll, he defended the vote for a congressional body which could effectively replace the opposition-led National Assembly.
"The imperial right wing believes it can give orders to Venezuela. The only ones who give orders here are the people," the leftist leader said, denouncing a threat from US President Donald Trump to impose sanctions on Venezuela if the vote takes place.
"Foreign imperial governments and foreigners don't give the orders here," Maduro declared on his weekly TV show.
Maduro says Venezuela vote going ahead despite 'imperial' threat https://t.co/hnPGu53aUP

— Reuters Top News (@Reuters) 23 juillet 2017
More than 100 people have died in months of anti-government unrest in Venezuela, which is in the midst of a crippling economic crisis.
More protests and a national strike are planned ahead of Sunday's vote for a Constituent Assembly. Maduro's opponents are to boycott the ballot, demanding instead conventional free elections including for a new president.
Maduro has branded his opponents "terrorists", saying they are working for Washington to try to control Venezuela's oil.
The European Union and major Latin American nations have also stated their opposition to the constituent body, which will have power to rewrite Venezuela's 1999 constitution and override other institutions.
Venezuela opposition calls for 48-hour general strike https://t.co/abWMveMxD9pic.twitter.com/JazjlW965G

— Bloomberg (@business) 23 juillet 2017
with Reuters