Silk Way Rally: Sotnikov and Despres come out on top
Comments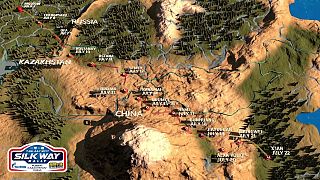 The story of this year's Silk Way Rally was one of two dominant teams: Peugeot and Kamaz.
In the cars section, Peugeot held the upper hand from the off, with Sebastien Loeb and Stephane Peterhansel.
The drivers exchanged the lead in the first two stages. Loeb brilliantly navigated stage four (in which Peterhansel lost three hours after a crash) to move over an hour clear in the overall but disaster struck for the nine-time rally champion on Stage nine.
He too rolled his Peugeot, but was unable to go on due to a dislocated finger, and retired the following morning.
That handed the initiative to defending champion Cyril Despres, who successfully navigated the final week (with some help from Peterhansel) to claim his second straight crown.
The blue armada
In the trucks, Kamaz kept their cards close to their chest during the tricky early stages in Russia and Kazakhstan – where rain and mud got the better of several big names.
Martin Kolomy started brightly, with wins on stages one and four, but once Dmitry Sotnikov took over at the top with victory on stage five, the writing was on the wall.
The blue armada dominated the rest of the rally, winning all but one stage between 5 and 13 (Kolomy again, stage 11), and finished with a hat-trick – Sotnikov ahead of Anton Shibalov and 2016 champion Airat Mardeev.