Silk Way Rally: Sotnikov and Despres celebrate
Comments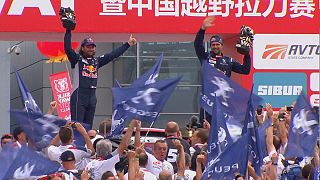 The end of the Silk Way Rally ended with a cancellation followed by party.
The 14th stage, a final 100-kilometre special between Zhongwei and Xi'an, was cancelled due to heavy rain in the region.
The results were not made official until the competitors reached Xi'an on Saturday and then it was party time in the Peugeot and Kamaz camps.
Dmitry Sotnikov added to his 2013 crown in the trucks. Kamaz has now won this category at the Silk Way in six of seven editions, the only exception being 2011, when Ales Loprais won for Tatra.
Anton Shibalov and Airat Mardeev complete the podium spots
Peugeot was the dominant force in the cars section with Cyril Despres, Stephan peterhansel and Sebastian Loeb in the mix.
But disaster struck for Peterhansel and Loeb and Depres profited.
Depres, who finished third in the Dakar at the beginning of the year, successfully navigated the final week to claim his second straight crown.
While Christian Lavieille continued his excellent summer by finishing second in the cars, a month after winning the Taklimakan Rally in China.