Russian Foreign Minister downplays Trump-Putin meetings
Comments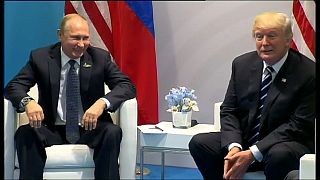 Russian Foreign Minister Sergey Lavrov has joked about the hype over President Trump's meetings with Russian President Vladimir Putin, suggesting there may have been several inconsequential meetings between the two men at the G-20 summit in Germany.
In an interview with NBC, Lavrov said President Donald Trump may have held more meetings with Vladimir Putin – but he shrugged off the importance of the encounters.
"They might have met even much more than just three times," "Maybe they went to the toilet together," he joked.
"Maybe they went to the toilet together," Russia's Lavrov jokes about more Trump-Putin G-20 meetings on TODAYshow</a> <a href="https://t.co/pxtnel4vRz">https://t.co/pxtnel4vRz</a></p>— NBC News (NBCNews) July 21, 2017
Lavrov suggested that the G-20 meetings this month gave the two leaders several chances to mingle.
"When you are brought by your parents to a kindergarten do you mix with the people who are waiting in the same room to start going to a classroom?" he asked.
He added: "I remember when I was in that position I did spend five or ten minutes in the kindergarten before they brought us to the classroom."
Lavrov echoed the White House account of a third meeting between Trump and Putin during a social-dinner at the summit in Hamburg.
The other two meetings — one a scheduled bilateral meeting and another when the pair shared a handshake — had already been widely reported.
"After the dinner was over…I was not there…President Trump apparently went to pick up his wife and spent some minutes with President Putin…so what?" he said.
They may have met even much more than just three times.
Trump's interactions with the Russian leader at the summit have been scrutinized closely because of the allegations into claims of Russian involvement in last year's Presidential election, something Russia denies.