Rome takes further drought measures
Comments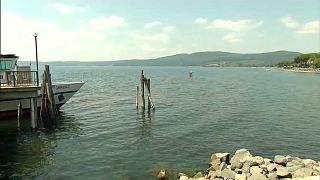 Italian authorities have ordered a halt to pumping water out of a lake near Rome following a prolonged drought.
Acea, the utility firm which runs Rome's water system, has said that two years of lower-than-average rainfall have dramatically reduced water levels in reservoirs feeding the city.
"For months, weeks, the water level is falling. Now this drop has reached a dramatic percentage, dangerous to the lake itself," explained Nicola Zingaretti, Lazio Governor. "So we took this measure that will come into operation in seven days time ."
Earlier this month, the drinking fountains that dot the city were closed in an effort to safeguard supplies.
Since then there has been no let up in above-average temperatures with 2017 likely to be one of the hottest years on record in Italy.