New claims about Sessions and contact with Russia
Comments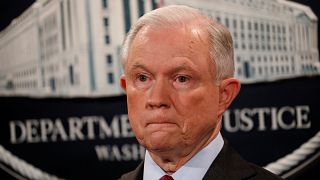 There are more damaging headlines concerning the US Attorney General, just days after being criticised by President Trump.
The Washington Post says the Russian ambassador was overheard by US spy agencies telling his bosses that he had discussed campaign-related matters with Jeff Sessions during the 2016 presidential race, contradicting earlier statements by Sessions.
Jeff Sessions discussed Trump campaign-related matters with Russian ambassador, U.S. intelligence intercepts show https://t.co/Yi5V4QxEe6

— Seamus Kearney (@seamuskearney_) July 22, 2017
President Trump responded via Twitter to the latest reports in the Washington Post.
A new INTELLIGENCELEAK from the Amazon Washington Post,this time against A.G. Jeff Sessions.These illegal leaks, like Comey's, must stop!

— Donald J. Trump (@realDonaldTrump) July 22, 2017
The claims concerning Sessions come as the House Intelligence Committee said it will question Trump's son-in-law Jared Kushner on Tuesday as part of its probe into claims that Russia meddled in the US election.
Jared Kushner agrees to appear before House Intelligence Committee https://t.co/ioXBfmki8Spic.twitter.com/ICy4ex6aCA

—

ABC

News (@ABC) July 21, 2017
The turmoil within the Trump administration continues on different fronts.
On Friday White House press secretary Sean Spicer quit, reportedly over Trump's choice of new communications director, and there is the ongoing row over a meeting between Trump's eldest son and a Russian lawyer.
Reuters has reported that Robert Mueller, the special counsel investigating possible collusion between Trump's campaign and Moscow, has asked White House officials to preserve any records of the meeting in June last year in Trump Tower.
Ex-Trump campaign manager Paul Manafort has also been called to testify at a Senate Judiciary Committee hearing on Wednesday.