Venezuela: two dead after anti-Maduro shutdown, clashes
Comments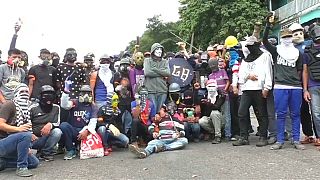 Millions of people in Venezuela have taken part in a 24-hour shutdown in a civil disobedience campaign against the country's president.
The strike was called by foes of Nicolas Maduro to demand elections and the scrapping of plans for a new congress.
Businesses stayed closed and streets were barricaded. Authorities say at least two young men died during Thursday's unrest.
The opposition hopes the action will end nearly two decades of socialist rule.
Former Venezuelan UN diplomat Isaias Medina has resigned and broken up with the government. He explained: "It was the violence, the death of students. The aggressive response of the government to a peaceful manifestation. This is the point of no return non-negotiable."
Venezuela has been in deep decline for four years. It has the world's highest inflation and widespread food shortages.
The unrest has taken around 100 lives and injured thousands.
The political interests of #Russia and the U.S. intersect in nations across the world. #Venezuela is no exception. https://t.co/kDH5120q4jpic.twitter.com/9NhZNPmK5i

— Stratfor (@Stratfor) July 20, 2017