Morocco: civil unrest in northern Rif region
Comments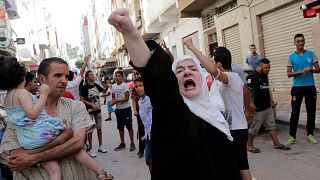 People took to the streets in Morocco's northern Rif region as part of the kingdom's biggest wave of civil unrest since Arab Spring-inspired rallies six years ago.
Police fired tear gas and, according to a Reuters witness charged a groups of protesters, including men, women and children.
Tensions have been simmering in Al-Hoceima since October when fishmonger Mouhcine Fikri died after being crushed by a refuse truck. Police had confiscated his fish after accusing him of buying it illegally. They dumped it in the truck. He climbed inside to try to recover his stock and was crushed.
Moroccans have also become frustrated with what they say is corruption, underdevelopment and injustice.
From local journa:gendarmerie forcing people to open their FB to see what kind of posts they share before letting them enter reach #hoceima

— فيروز (@Fayrouz_yousfi) July 20, 2017
Many taking part in the unrest travelled from all over the country as well as as Europe.
"I came here to protest because I just can't sit at home and watch what is happening," said Hicham Wergelamd, 33, a Moroccan living in Norway and working as a security guard. "This is a disgrace."
Protesters and police were among those injured during clashes, which intensified when several hundred managed to form a march headed toward the main square.
The Hirak movement was born after the death of Fikri in Al-Hoceima, which sits on Morocco's Mediterranean coast.
His death has become a symbol of "hogra" – a colloquial Arabic term for the deprivation of dignity due to the abuse of power and injustice. But in a country where the palace remains the ultimate power, the demonstrators have directed their anger at the government rather than the monarch himself.
July 20 March in Al Hoceima: Police Use Tear Gas to Disperse Demonstrators https://t.co/dh2Vwh8Jfx

— Misa Kanaya (@misakanaya) July 21, 2017
Leading activist #Nawal_Ben_Aissa was transported to local hospital after being kicked in her stomach by riot police#Al_Hoceima#Moroccopic.twitter.com/18T5ddkMF4

— Anas Mechach (@AnasMechch) July 20, 2017
Dozens of journalists here in Al Hoceima struggling to file and upload articles, photos, videos due to throttled internet connection.

— Samia Errazzouki (@S_Errazzouki) July 20, 2017
What is "hogra" and why are Moroccans feeling it? #Rif#Macron#Moroccopic.twitter.com/sspPIHVZAX

—

FRANCE

24 Debate (@F24Debate) June 14, 2017