Erdogan attacks Germany over investment scare
Comments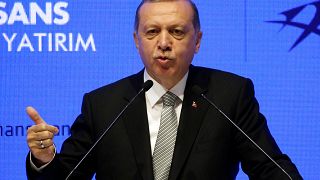 Turkish President Tayyip Erdogan has accused Germany of trying to scare off investors in Turkey with lies. This as Berlin toughened its stance towards Ankara after six human rights activists, including a German national, were detained two weeks ago.
"I strongly condemn the German economy minister's baseless comments aimed at startling and disturbing companies investing in our country with indirect messages," he said. "There isn't any investigation on any German company in Turkey. These accusations are all lies."
The Turkish president also alleged German support for terrorists in Turkey.
"The German government that harbours Turkish terrorists in their country must first give an account for this," he said. "How will they explain the financial support given to those people there?"
Bilateral tensions between the two countries were already high after bitter recriminations during a referendum in April on extending Erdogan's powers and a pullout of German troops from a Turkish air base that began this month.
Germany was Turkey's top export destination in 2016 and the second biggest source of Turkish imports.