U.S. shuts down huge dark web marketplace accused of aiding crime
Comments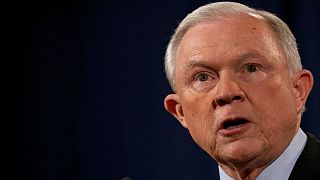 The U.S. Justice Department said on Thursday it had shut down the dark web marketplace AlphaBay, working with international partners to knock offline the site accused of allowing a global trade in drugs, firearms, computer hacking tools and other illicit goods.
The Dutch National Police, working with the US Drug Enforcement Agency also closed down the Dark Web site, HANSA.
Wilbert Paulissen from the Dutch Criminal investigation department told reporters: "The core is that we as the police and the justice department succeeded in taking over the complete website and have total control of Hansa."
According to Europol, AlphaBay was listing more than a quarter of a million items such as illegal drugs and toxic chemicals.
The coordinated law enforcement action is being hailed as one of the most sophisticated takedown operations ever seen against criminal activities online.
US Attorney General, Jeff Sessions, said: "Make no mistake, the forces of law and justice face a challenge from criminal and transnational criminal organizations that think they can commit their crimes with impunity by going dark."
HANSA was being covertly monitored for around one month before it was deactivated. Dutch Police then took control of the HANSA marketplace following the arrests of two men in Germany and the seizure of servers there and in the Netherlands and Lithuania. British and French police also contributed to the operation.