Poland's lower house passes controversial judiciary reform bill
Comments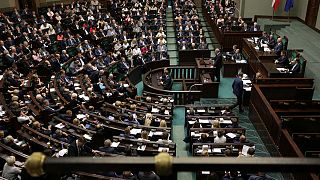 Poland's lower house of parliament has passed a controversial law that gives the government more power over the Supreme Court.
It would mean the removal and replacement of all Supreme Court judges. Last week, the ruling Law and Justice party passed plans for politicians to have the power to appoint judges.
The opposition says it will erode the independence of the judiciary and undermine democracy.
Although the conservative Law and Justice party (PiS) now needs to take the bill to the upper house, the party has a majority in both houses of parliament.
European Council President, Donald Tusk, who used to be Poland's prime minister, has called the law "backward" and wants to meet with Poland's president.
But ultimately there is little the EU can do to alter the passage of a law through an EU country.
Recently, thousands of people have held candle-lit protests against the planned bill, asking the president to veto the legislation and arguing that the government could destroy judicial independence and appoint only judges who support the ruling party.
With agencies
Recent measures taken by the Polish authorities on the judicial system greatly amplify the threat to the Rule of Law in Poland

— Frans Timmermans (@TimmermansEU) July 19, 2017
Thousands protest in Poland against government judicial changes https://t.co/DuohfiuRmRpic.twitter.com/a9MO4YbkIW

— euronews (@euronews) July 16, 2017