Man behind blue whale suicide 'game' is jailed
Comments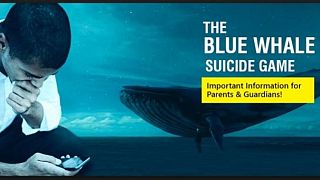 One of the founders of a controversial online challenge that encourages participants to kill themselves has been jailed.
Philipp Budeikin, who pleaded guilty to inciting teenagers to commit suicide, was given a three-year jail term by a Russian court.
People who take part in the so-called blue whale challenge are thought to be set tasks over 50 days, climaxing with suicide.
Budeikin, who was sentenced on July 17, admitted his involvement in the suicide attempts of two girls in Russia, a 16-year-old and a 17-year old.
He told Russian press his victims were 'biological waste' and he was 'cleansing society'.
British police, amid fears UK teenagers will become victims, have been posting messages on Twitter to raise awareness of its dangers.
If you're affected by the issues in this story, or would like to talk to someone about them, please contact the UK-based Samaritans.