Spain's football federation chief arrested in corruption operation
Comments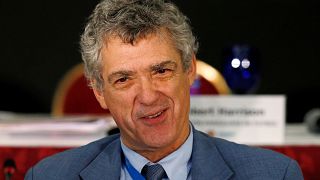 Fifa Vice President and head of the Spanish Football Federation (RFER) Angel Maria Villar has been arrested in Spain in an anti-corruption operation.
Angel Maria Villar, his son Gorka and several other executives are also being held as part of an investigation into fraud and embezzlement, police said in a statement.
Fifa and Uefa both issues statements saying they were aware of the developments but did not wish to comment.
Villar was fined more than 20,000 euros in 2015 by world football's governing body for failing to co-operate with an investigation into the controversial awarding of the 2018 World Cup. His punishment was not heavier because he subsequently contributed to the investigation, the organisation said at the time.
Fifa respond to Villar Llona arrest. Distancing themselves from it and directing "further details" towads the Spanish Federation. pic.twitter.com/k53IaSHMKU

— Richard Conway (@richard_conway) July 18, 2017
He spent the bulk of his playing career as a midfielder at Athletico Bilbao in the 1970s and won 22 caps for Spain before retiring and rising to head the national football federation in 1988.