Earthquake strikes Russia's far east
Comments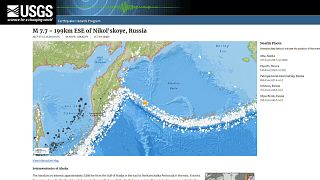 A powerful earthquake has struck in far-east Russia – triggering a tsunami alert.
The 7.8 magnitude quake struck overnight on Monday around 200 kilometres from Nikolskoye, Bering island off the Kamchatka Peninsula.
The epicentre was near Alaska's remote Aleutian islands.
The earthquake was very shallow, only 10 km below the seabed, which would have amplified its effect, but it was far from any mainland and there were no immediate reports of any casualties or damage.
The Kamchatka branch of Russia's emergency situations ministry had warned that waves up to 50 cm (1-2/2 feet) high could reach Nikolskoye.
The U.S. Pacific Tsunami Warning Center had warned earlier that "hazardous tsunami waves were possible for coasts within 300 km (186 miles) of the earthquake epicenter".
But it later said that based on all available data the tsunami threat from this earthquake had passed.
The quake was initially reported as a magnitude 7.7 before being revised down to 7.4 and finally upgraded to 7.8, a major quake normally capable of causing widespread and heavy damage when striking on or near land.
The quake was followed by numerous aftershocks, including several above magnitude 5.0.
#AlaskaQuake in context: https://t.co/1b0Xij011u

— Steve Herman (@W7VOA) July 18, 2017