Watch: Brawl in Taiwan's parliament
Comments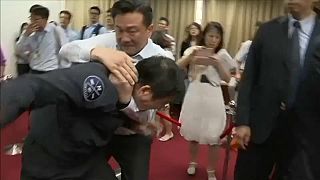 A debate over how billions of dollars for an infrastructure development plan will be allocated descended into a brawl in Taiwan's parliament on Tuesday.
Members of the ruling Democratic Progressive Party and the opposition Nationalist party threw water and shoved each other to the floor.
Taiwan's parliament once again descends into chaos, with lawmakers wielding chairs and throwing water balloons https://t.co/Nz44xCyZuOpic.twitter.com/JQ6Db6EQB6

—

AFP

news agency (@AFP) July 14, 2017
Proudly democratic Taiwan's legislators are notoriously rambunctious and known for brawls that occasionally involve throwing objects such as microphones and water balloons.
Fights in parliament are seen as one way for the opposition to show voters that it stands tough on issues.
Parliamentary debate descending to physical violence is hardly an issue unique to Taiwan, with legislators in many countries including Turkey, Ukraine and South Korea also having come to blows in the past.
The DPP-backed Infrastructure Development Programme was approved this month and is aimed at bolstering domestic demand and rebalancing the island's economy away from its reliance on exports.
The $12.6 billion plan was only half the size of the original stimulus plan announced by the cabinet in March, part of the DPP's political compromise to get it through parliament.
Opposition lawmakers had criticized the original plan as going beyond the four-year term limit of Taiwan President Tsai Ing-wen and her party.
The fracas was fuelled by a disagreement over how the funds should be allocated.