Two killed as storm Talas leaves China and hits Vietnam
Comments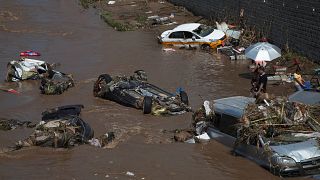 At least two people have died in a tropical storm that has hit both China and Vietnam.
The two countries are dealing with the aftermath of Storm Talas, which brought with it torrential rain and strong winds.
China's southern island province of Hainan was first to be hit on Sunday, before the storm later travelled west and reached central Vietnam on Monday.
Vietnamese authorities said a woman was killed when the roof of her house blew off.
Vietnam's Central Steering Committee for Natural Disaster Prevention and Control said a woman in Vinh City was killed when the roof of her house blew off.
The storm caused a cargo ship with 13 crew members to sink in waters off the coast of Vietnam's Nghe An Province, leaving one dead, six others missing.
In the Quang binh Province, seven people were injured when a ship capsized.
Floods and falling trees have also caused severe damage and disruption in many neighborhoods.