Eight dead in Senegal after stampede at football league final
Comments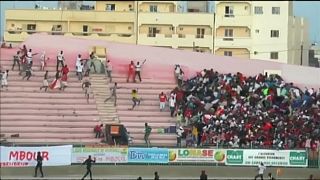 Eight people have been killed in a stampede that broke out at a Senegalese football stadium following clashes that broke out at the end of the country's football league final.
A further 49 were injured during the skirmishes after a wall supporting a section of the stand collapsed.
(VIDEO – DIRECT ) Le film des Échauffourées au Stade Demba Diop https://t.co/4KONEddad8#Kebetu#Senegalhttps://t.co/4KONEddad8pic.twitter.com/drKZEMDXRr

— Limametti (@limametti) 15 July 2017
The match was being held at the Demba Diop stadium in Dakar, the home ground of Union Sportive Ouakam, who lost 2-1 to Stade de Mbour after extra time.
Fans began to throw projectiles at each other after Stade de Mbour scored in the first period of extra time.
Violence between rival fans broke out at the final whistle, and police, in an attempt to break up the scuffles, fired tear gas into the crowd, which led to panic, a stampede and the wall collapse.
"All of a sudden, the wall fell. We knew some of our own had lost their lives because the wall fell directly onto people," said Cheikh Maba Diop, who lost a friend in the tragedy.
Senegalese authorities said that a young girl was among the dead, and many were demanding "swift" and "strong" punishments for those involved in the violence.
A spokesman for the country's President Macky Sall said that all campaigning for the upcoming elections would be suspended on Sunday as a mark of respect.