Lightning strikes and thunderstorms end China's summer snap
Comments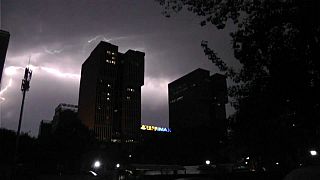 There have been spectacular storms across China bringing some relief from days of scorching summer heat.
For several hours, lightning lit up the Beijing skies and also struck several areas on the ground.
From wechat, brief video of tonight's beijing lightning storm pic.twitter.com/Bhjxan4cxz

— Bill Bishop (@niubi) July 13, 2017
Gale force winds also wreaked havoc. In Chengdu, capital of China's Sichuan Province, the storm lasted less than an hour but caused lots of damage.
Doors at Chunxilu railway station were smashed and some passengers were blown off their feet.
In other parts of the city, some onlookers kept their cool as a rooftop object fell at their feet while they filmed the thunderstom.
The heavy rainfall, which lasted about two hours, also caused severe travel disruption in Beijing, a number of power outages, and left many streets submerged.