Has there been a rise in acid attacks in England?
Comments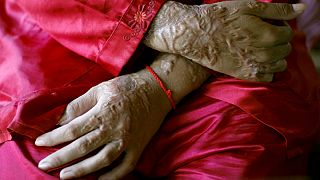 Hospital admissions for acid attacks in England are on course to hit a three-year high, latest figures reveal.
Provisional data shows there were 98 hospitalisations between April 2016 and February 2017, the latest period for which statistics are available.
That means there is set to be 107 admissions for the 2016/2017 period, the third-highest level over the last decade.
Meanwhile acid attacks in London are set to hit around 200 in 2017, if current trends continue.
The Metropolitan Police said there had been 66 attacks in the four months to the end of April this year.
There were 129 attacks in 2015, before a sharp rise last year to 224.
The release of the figures to Euronews comes after five people were injured on Friday night after a series of acid attacks in north-east London.
Police later arrested a 16-year-old boy.