Chechen man sentenced for killing Russian opposition leader
Comments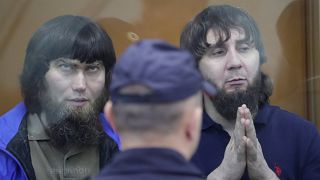 A court in Moscow has sentenced a Chechen man to 20 years in jail for killing Russian opposition leader Boris Nemtsov two years ago.
State prosecutors said Zaur Dadayev, a former soldier in Chechnya, shot Nemtsov dead as he walked across a bridge near the Kremlin with his girlfriend.
Four other Chechens were convicted of being accomplices and received sentences of between 11 and 19 years.
Russian opposition figure #Nemtsov's killer sentenced to 20 years in prison https://t.co/jdYQP22V71pic.twitter.com/z1RHJS0LeP

— Sputnik (@SputnikInt) July 13, 2017
Nemtsov was one of President Vladimir Putin's most vocal critics and had been working on a report examining Russia's role in the conflict in Ukraine.
His killing sent a chill through opposition circles.
State prosecutors said the group had followed Nemtsov around Moscow and had been promised a bounty of around two hundred and fifty thousand dollars to kill him.
Colleagues of Nemtsov said the investigation had been a cover-up and that the people who had ordered his killing remain at large.