Kaspersky Lab a 'pawn' in US-Russia geopolitical game
Comments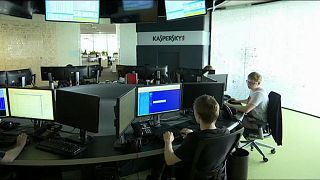 The Russian Kaspersky lab believes it has become a "pawn" in the geopolitical game between the US and Russia.
The cyber security firm said it had fallen victim to recent sparring between the two countries, with the US government moving to limit its activities.
"By all appearances, Kaspersky Lab happened to be dragged into a geopolitical fight where each side is trying to use the company as a pawn in its game," RIA news agency quoted the company's press service as saying.
The response comes after the Trump administration removed the firm from a list of approved vendors of technology equipment used by government agencies, a move the Kremlin criticized as politically motivated.
Kaspersky's anti-virus software is popular in the United States and around the world, and the firm has been a leading player in the cyber security market for decades.
The firm's Chief Executive, Eugene Kaspersky said: "If the United States needs, I can come for this and testify. We are open, we are transparent and we are very flexible. Anything I can do to prove that we don't behave maliciously, we will do it.
"Unfortunately, now the links to the FBI are completely ruined, and this is a very bad thing that my company and the Russian government, they lost connection to the FBI. It means that if some serious crime happens which needs Russian law enforcement to cooperate with FBI, unfortunately, at the moment, it's impossible."
Moscow jumped to the Kaspersky lab's defence, saying it is nothing more than a commercial company, despite claims of links to Russian intelligence.
"This is an absolutely commercial company which provides commercial services which are not only competitive but are super-competitive globally," Kremlin spokesman Dmitry Peskov told reporters.
"Russia as a state will continue to spare no effort to protect the interests of our companies abroad," Peskov said.