FBI director nominee disagrees with Trump's witch hunt claim
Comments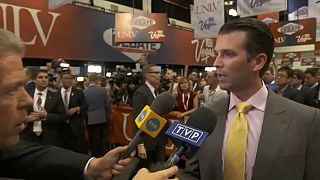 President Donald Trump's pick to head the FBI, Christopher Wray, on Wednesday said he would refuse to pledge loyalty to Trump and rejected his description of the probe into Russian election meddling as a "witch hunt."
My son Donald did a good job last night. He was open, transparent and innocent. This is the greatest Witch Hunt in political history. Sad!

— Donald J. Trump (@realDonaldTrump) July 12, 2017
Wray, nominated by Trump on June 7 to replace the fired James Comey as Federal Bureau of Investigation director, firmly sought to establish independence from the Republican president and even said it would be "highly unlikely" that he would agree to meet him in a one-on-one situation.
Wray appeared at his U.S. Senate Judiciary Committee confirmation hearing amid an uproar in Washington over 2016 emails released on Tuesday involving the president's son, Donald Trump Jr.
The emails showed the president's son agreeing last year to meet a woman he was told was a Russian government lawyer who might have damaging information about Democratic White House rival Hillary Clinton as part of Moscow's official support for his father.
Wray deflected specific questions from Republican Senator Lindsey Graham about the president's son's emails, but said, "Any threats or effort to interfere with our election from any nation-state or any non-state actor is the kind of thing the FBI would want to know."
Trump's son did not notify the FBI and wrote that "I love it" of the Russian's offer of information about Clinton.
If you're still foggy on Trump Jnr story, this piece—by White House ethics lawyers for Obama and W. Bush—is great.https://t.co/KduCRX5Bnw

— Benjamin Law (@mrbenjaminlaw) July 12, 2017
Wray, who appeared on target to win confirmation, also said he had no reason to doubt the U.S. intelligence community's finding that Russia interfered with the election to help Trump get elected in part by hacking and releasing emails damaging to Clinton.
In the aftermath of Comey's firing, the Justice Department named Robert Mueller, himself a former FBI director, to serve as special counsel looking into alleged Russian interference in the 2016 presidential race to help Trump get elected and potential collusion between Moscow and Trump associates.
Trump fired Comey on May 9 and later cited the "Russia thing" as his reason.
Trump has often called the Russia probe a "witch hunt" and the Russia matter has dogged Trump's first six months in office.
"I do not consider Director Mueller to be on a witch hunt," Wray told Republican Graham.
Wray and Comey served together in the Justice Department under Republican former President George W. Bush, and both worked on the government's case in the Enron Corp fraud scandal in the early to mid-2000s.
Wray said he was "very committed" to supporting Mueller in the special counsel investigation, calling him "the consummate straight shooter and somebody I have enormous respect for."