Massive anti-government rally in Istanbul
Comments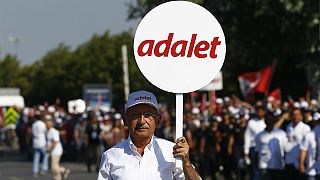 Hundreds of thousands of people rallied in Istanbul on Sunday at the culmination of 25-day march that has grown into the biggest protest against a government crackdown following last July's failed military coup.
Waving Turkish flags and banners emblazoned with the word "Justice" in red and white, they gathered to listen to Turkey's main opposition leader, Kemal Kilicdaroglu, speak at the end of his 425 km march from Ankara.
#Breaking: Kilicdaroglu declares April 16th referendum is #illegitimate, adds Turkey cannot be ruled by these unsealed referendum results. pic.twitter.com/4bRIHOgvAN

— Washington Hattı (@WasHatti) July 9, 2017
Kilicdaroglu, head of the secularist Republican People's Party (CHP), set off from the capital in mid-June to protest the jailing of party member Enis Berberoglu for 25 years on spying charges.
Berberoglu was the first CHP lawmaker to be imprisoned in the purge which followed the July, 2016 abortive military coup against President Tayyip Erdogan's government. Around 50,000 people have been arrested and 150,000, including teachers, judges and soldiers, suspended.
Kilicdaroglu told Reuters on Friday that his three-week march had helped Turks "cast off a shirt of fear" since emergency rule was imposed after the coup attempt.
Walking around 20 km a day, the 68-year-old politician attracted relatively modest support in the first stages of his march. After five days and 100 km, only around 1,000 people were walking alongside him.
But numbers swelled and the last few days of his march attracted huge crowds. He was joined by other opposition parties, including the pro-Kurdish HDP.
On Sunday, he told supporters he would walk the final short stretch to the rally by himself, but thousands still followed him on the route chanting: "Rights, Law, Justice".
Erdogan criticized Kilicdaroglu when he launched his protest, saying justice should be sought in parliament, not on the street. He likened the protesters to those who carried out the attempted coup, saying they could face charges.
But the march and rally have been allowed to go ahead, despite the state of emergency. Fifteen thousand police were deployed at the rally, the governor of Istanbul was quoted as saying by state news agency Anadolu.
Rights groups and government critics, including members of Kilicdaroglu's CHP, say Turkey has been sliding toward authoritarianism since the coup bid.
The government says its crackdown is necessary, claiming the country faces vast security threats.