Liu Xiaobo : Western medics contradict China
Comments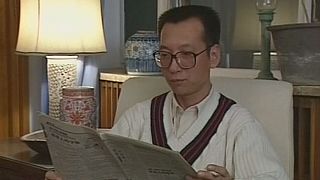 Ailing Chinese Nobel Peace Prize laureate Liu Xiaobo can be moved abroad safely for treatment and he wants to go to either Germany or the United States, but it needs to happen soon, two foreign doctors who visited him said on Sunday.
Liu, 61, was jailed for 11 years in 2009 for "inciting subversion of state power" after he helped write a petition known as "Charter 08" calling for sweeping political reforms.
He was recently moved from jail to a hospital in the city of Shenyang to be treated for late-stage liver cancer.
On Saturday, two doctors from the United States and Germany visited him to assess his condition and consult on his treatment, after being invited by the hospital.
"Liu Xiaobo and his family have requested that the remainder of his care be provided in Germany or the United States," Joseph M. Herman of the University of Texas MD Anderson Cancer Center, and Markus Buechler of the University of Heidelberg said in a joint statement.
"While a degree of risk always exists in the movement of any patient, both physicians believe Mr Liu can be safely transported with appropriate medical evacuation care and support. However, the medical evacuation would have to take place as quickly as possible."
The doctors acknowledged the quality of care he has received and said they agreed with the diagnosis of primary liver cancer.
"The physicians have recommended Mr Liu receive palliative supportive care. Additional options may exist, including interventional procedures and radiotherapy," they said.
The University of Heidelberg and MD Anderson have both agreed to accept Liu for treatment and both are prepared to offer him the best care possible, they said.
China's Foreign Ministry did not immediately respond to a request for comment on whether Liu would be allowed to leave.
The hospital said on Saturday moving him would not be safe. A woman who answered the phone at the hospital on Sunday said she did not know about Liu's case.
There are police cars parked outside all entrances to the hospital, which is located in the middle of downtown Shenyang.
A man, not in uniform, on Sunday blocked a Reuters reporter from entering the building where friends say Liu is being treated, saying access was only for patients or upon invitation.