Iraqi PM celebrates victory in Mosul
Comments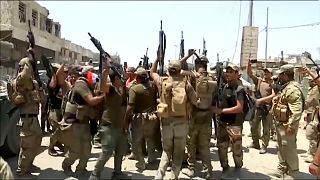 Iraq's Prime Minister Haider al-Abadi joined the victory celebratiions in Mosul after eight months of urban warfare brought an end to three years of jihadist rule in the city.
Dozens of militants from the so-called Islamic State were reported killed on Saturday, others tried to escape by swimming across the river.
"ISIL's leader Abu Bakr al-Baghdadi said that he would not give Mosul back. Look: where are we standing now? We are in Mosul. We walked all over them – after this will go to Hawija and then to Ramadi," boasted Iraqi federal policeman Kadhim Hussein.
For three years the militants' control of Mosul and Raqqa in Syria has given them a propaganda boost in their drive to build a modern-day caliphate.
While ISIL's grip is being loosened, the misery they leave behind is immense. Although some 900,000 people are said to have fled the city, some remain.
A small group of ragged civilians – women, children and the elderly – were the only ones spotted in this part of Mosul on Saturday. Numbering about 15, they received first aid from security forces medics and took shelter in a damaged petrol station.
Iraqi army says Mosul victory imminent, Islamic State vows 'fight until death' https://t.co/QZSoBHzl0epic.twitter.com/qnOITRhFw6

— Reuters Top News (@Reuters) July 8, 2017