Civilians used as human shields in Mosul
Comments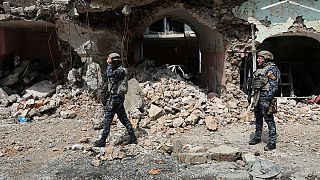 Evidence has emerged the so-called Islamic State is using civilians as human shields in its combat to retain control of Mosul.
Fighting rages on between government forces and the hardline Sunni militant group in the Iraqi city – its last bastion in Iraq.
"My family was here," says Mosul resident Natet Shukr Mustafa as he stands in the rubble of his former home. "My mother, my two brothers and two of their children – we were five and with our neighbours 22 people died in this house. One of my brothers is injured, he has a broken leg."
According to the United Nations, some 300,000 people have fled Mosul since the government offensive to recapture the city began in October – more than a third in the past month alone.