Victory in Mosul in "hours" Iraqi TV reports
Comments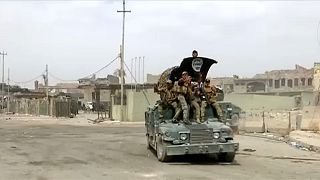 Iraqi security forces are expect to take full control of Mosul in the next hours as Islamic State's defensive lines collapse, state TV reported on Saturday.
Air strikes and artillery salvoes pounded the jihadists' last bastion in the city as black smoke billowed over it, a Reuters TV crew said.
"We are seeing now the last metres and then final victory will be announced," said a TV speaker, citing the channel's correspondents embedded with security forces battling in Islamic State's redoubt in the Old City of Mosul, by the Tigris river. "It's a matter of hours," she said.
A military spokesman cited by the TV said the insurgents' defence lines were collapsing. Iraqi commanders say the insurgents are fighting for each metre with snipers, grenades and suicide bombers, forcing security forces to fight house-to-house in the densely populated maze of narrow alleyways.
A U.S.-led international coalition is providing air and ground support to the eight-month-old offensive to wrest back Mosul, once the de facto capital of Islamic State in Iraq.
Months of urban warfare have displaced 900,000 people, about half the city's pre-war population, and killed thousands, according to aid organisations.
Mosul was by far the largest city seized by Islamic State in its offensive three years ago where the ultra-hardline group declared its "caliphate" over adjoining parts of Iraq and Syria.
Stripped of Mosul, Islamic State's dominion in Iraq will be reduced to mainly rural, desert areas west and south of the city where tens of thousands of people live.
The militants are expected to keep up attacks on selected targets across Iraq.
Prime Minister Haider al-Abadi declared the end of Islamic State's "state of falsehood" a week ago, after security forces took Mosul's mediaeval Grand al-Nuri mosque – although only after retreating militants blew it up.
The United Nations predicts it will cost more than $1 billion to repair basic infrastructure in Mosul.
Iraq's regional Kurdish leader said on Thursday in a Reuters interview that the
Baghdad central government had failed to prepare a post-battle political, security and governance plan.
The offensive has damaged thousands of structures in Mosul's Old City and destroyed nearly 500 buildings, satellite imagery released by the United Nations on Thursday showed.
In some of the worst affected areas, almost no buildings appear to have escaped damage and Mosul's dense construction means the extent of the devastation might be underestimated, U.N. officials said.
.undp</a>'s Lise Grande to <a href="https://twitter.com/stephenkalin">stephenkalin – West #Mosul destruction and $ of repairs far exceeds anywhere else in #Iraq: https://t.co/CgPZcqJcHg

— Lindsay Mackenzie (@L_M_Mackenzie) July 6, 2017