Battulga Khaltmaa set to take Mongolian presidency
Comments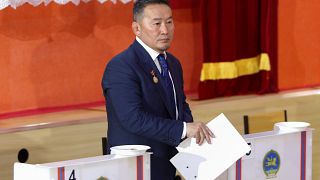 Painter and former judo champ, Battulga Khaltmaa of Mongolia's Democratic Party is poised to become the country's next president after promising to serve as a watchdog against super-majority rule in parliament by the Mongolian People's Party. His nationalist-tinged campaign also struck a chord with young voters hoping for a greater slice of Mongolia's natural resource wealth.
As of 12:30 a.m. local time on Saturday, Battulga, aged 54, had 50.8 percent of the vote compared to 40.6 percent of the vote for MPP candidate Enkhbold Miyegombo, with 92 percent of polling stations reporting.
If the results hold, Battulga's win will keep the office of the president in the hands of the Democratic Party following eight years of rule by Elbegdorj Tsakhia, who was unable to run for a third term.
Battulga portrayed himself as the anti-oligarchy candidate and watchdog against abuse of power by the ruling MPP. He has promised to bring jobs and bridge the yawning wealth gap that has left thousands of families disenfranchised in undeveloped urban and rural areas.
A former minister of agriculture and industry, Battulga has vowed to balance Mongolia's exports with its neighbors. The country currently exports 89 percent of its products to China. He advocates building railroads to Russia and industrial plants to process Mongolian minerals.
Battulga is also planning to revoke a government order that prevents revenue from strategic deposits from flowing through local banks. The measure was the final step for Mongolia to qualify for an International Monetary Fund-led bailout package that totaled $5.5 billion.