EU's Barnier steps up Brexit trade warning to UK
Comments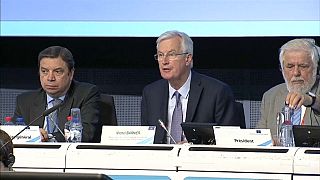 The EU's stance on Brexit "hasn't been fully understood in the UK".
So says the Commission's chief negotiator, rejecting British calls for "frictionless trade" after the UK leaves the European Union.
Michel Barnier told an EU business forum in Brussels that London's "red lines" on future relations implied leaving the single market and customs union.
UK government ministers have talked of wanting to achieve terms as close as possible to current arrangements – while the official stance is that free movement of people from the EU will end, along with the jurisdiction of the European Court of Justice, and the UK will gain autonomy over laws and future trade deals.
"I have heard some people in the UK argue that one can leave the single market and keep all of its benefits – that is not possible. I have heard some people in the UK argue that one can leave the single market and build a customs union to achieve 'frictionless trade' – that is not possible. The decision to leave the EU has consequences," he said in his first major public intervention since official Brexit talks got underway last month.
"A fair deal is far better than no deal," he added, turning on its head Theresa May's phrase – repeated in the Conservative Party's recent election manifesto – that no deal was better than a bad deal for Britain.
In a classic negotiation 'no deal'=status quo. #Brexit 'no deal'=return to distant past, which we all should avoid https://t.co/0ZXEObSAWX

— Michel Barnier (@MichelBarnier) July 6, 2017
Working visit to port Zeebrugge, hub of single market. #brexit will affect some regions and sectors more GeertBourgeois</a> <a href="https://twitter.com/jvanovertveldt">jvanovertveldtpic.twitter.com/hVghuvbDA4

— Michel Barnier (@MichelBarnier) July 6, 2017
In his speech, Barnier then went into some detail to explain why trade "will never be as fluid for a country that chooses to leave the single market and the customs union". Arguing that "one does not go without the other", he says the both systems would be undermined if "divergent national rules" were allowed.
The EU's negotiator gave details of economic sectors at risk, implying that UK farm exports to the EU would be subject to border controls and sanitary checks.
He also warned that new constraints could hit the Airbus factory in Wales, highlighting its reliance on skilled labour from the continent and the smooth delivery of parts to France and Germany.
Barnier statements on Brexit all confirmation of known EU position, except for comment on 100% of farm produce requiring checks.

— Ian Dunt (@IanDunt) July 6, 2017
In response, Britain's Foreign Secretary Boris Johnson repeated his confident view that the country's aims were achievable.
"There is an important distinction between membership of the single market and having access to the single market. I think what all sides want to see is a great free trade deal that benefits both sides of the Channel. That's manifestly in the interests of the UK but it's also in the interests of our European friends and partners. I have absolutely no doubt we will be able to get there," he said at a joint news conference with the Ukrainian prime minister in London.
The prime minister's office was quoted as saying that talks had only just started, and that trade as fluid as possible between the UK and the EU after Brexit was in both sides' interests.
The UK's opposition Labour leader Jeremy Corbyn is due to meet Michel Barnier next week to outline his party's issues connected to Brexit.
On Thursday night the Confederation of British Industry (CBI) called for an indefinite delay in the UK's exit from the single market and customs union until a final EU deal was in force. In a lecture at the London School of Economics, Director-General Carolyn Fairbairn was to argue that uncertainty was hitting business, that "instead of a cliff edge the UK needs a bridge to the new EU deal", and that if others had alternative ideas, "now is the time to put them on the table".
Read the business proposals for UK staying in the single market & a customs union until a final EU deal is in force: https://t.co/kzzudLRPdN

— The

CBI

(@CBItweets) July 6, 2017