Fireworks and record hot dog eating: Americans celebrate Independence Day
Comments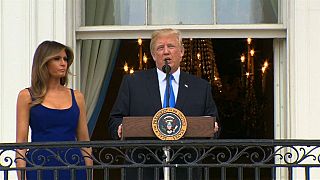 Political divisions were set aside on Tuesday (July 4) as Americans celebrated 241 years since their Declaration of Independence.
In keeping with tradition, cities across the country held parades and launched fireworks to commemorate July 4, 1776, when the American colonies' Declaration of Independence from Britain was adopted – proclaiming the rights to life, liberty and the pursuit of happiness.
In Washington, D.C., crowds enjoyed performances by the Blues Brothers, the Beach Boys and Gospel singer Yolanda Adams who did a rendition of 'God Bless America' during a fireworks display over the National Mall.
"I pledge my unwavering support for you, for your families and your missions. I want to just tell you that our country is doing really, really well. No matter where you look – the economy is blazing and on every front we are doing well. And we do have challenges but we will handle those challenges, believe me," said President Donald Trump.
For most Americans, the day was all about watching parades and baseball, relaxing at the beach and around barbecues.
A new record was also set in Brooklyn, where one man swallowed 72 hot dogs in 10 minutes.
Fabulous & festive #FourthOfJuly fireworks tonight in #NYC. #NewYork#Happy4thofJuly#IndependenceDaypic.twitter.com/jjVLJHuNpl

— Inga Sarda-Sorensen (@isardasorensen) July 5, 2017
The Empire State Building in New York City is lit red, white and blue tonight in celebration of #IndependenceDay. pic.twitter.com/Zd1ggS8SjJ

—

NBC

Nightly News (@NBCNightlyNews) July 5, 2017
And still!

By eating a world-record 72 hot dogs in 10 minutes, Joey Chestnut wins a 10th Nathan's Hot Dog Eating contest. Simply the best. pic.twitter.com/rdl4iOqPK1

—

ESPN

(@espn) July 4, 2017