Disagreement at the UN over North Korea
Comments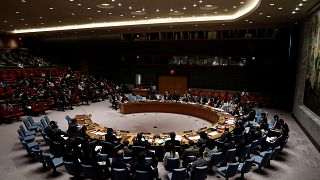 North Korea's July 4 intercontinental missile launch has produced a warning from the United States which says it is ready to use force if need be to stop Pyongyang's nuclear missile programme.
At an emergency UN Security Council meeting Washington's UN Ambassador Nikki Haley said North Korea's actions were "quickly closing the possibility of a diplomatic solution."
"It is a dark day because yesterday's actions by North Korea made the world a more dangerous place. Their illegal missile launch was not only dangerous but reckless and irresponsible.
US Ambassador Haley says military action in response to North Korea's long-range missile test remains on the table https://t.co/OixOXWoSeqpic.twitter.com/uflZX5UiXi

—

CNN

Breaking News (@cnnbrk) July 5, 2017
Moscow's envoy, Deputy UN Ambassador Vladimir Safronkov was more even handed in his apportioning responsibility for the heightened tensions in the region.
"We call upon the DPRK as a voluntary, political decision to declare a moratorium on the testing of nuclear explosive devices and the testing of ballistic missiles, though the U.S. and the Korean Republic at the same time should refrain from conducting full-scale joint training exercises."
China's UN ambassador, Liu Jieyi, told the Security Council meeting that the missile launch was a "flagrant violation" of UN resolutions and "unacceptable."
"We call on all the parties concerned to exercise restraint, avoid provocative actions and belligerent rhetoric, demonstrate the will for unconditional dialogue and work actively together to defuse the tension," Liu said.
The recent North Korean launch was a major step in its missile programme showing it can reach parts of mainland America.
Leader Kim Jong Un says he will not negotiate with the US unless it abandons its hostile policy towards his country.
The United States has remained technically at war with North Korea since the 1950-53 Korean conflict ended in an armistice rather than a peace treaty and the past six decades have been punctuated by periodic rises in antagonism and rhetoric that have always stopped short of a resumption of active hostilities.
Tensions have risen sharply after North Korea conducted two nuclear weapons tests last year and carried out a steady stream of ballistic missile tests