German coach inferno: 18 feared dead
Comments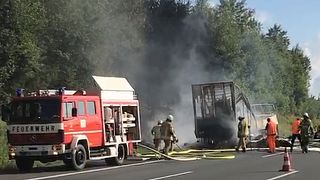 Eighteen people are believed to have died in a coach crash in the German state of Bavaria, police say.
A police spokesman told broadcaster n-tv that 17 people were unaccounted for and several were thought to have died. (Reuters)
The accident saw the coach, which had 48 people on board at the time of the crash, burst into flames after colliding with a lorry on the A9 motorway.
Two drivers were on the vehicle carrying German pensioners from Saxony. One driver was among those killed.
Thirty-one people were injured in the incident, some seriously.
"Currently 31 people are being treated by rescue services. Several rescue helicopters are on site. An investigation is ongoing about the whereabouts of the other (unaccounted for) people," police spokesperson Anne Hoefer said.