Israel ex-PM Ehud Olmert freed from prison
Comments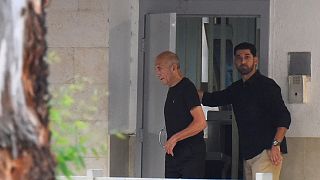 Israel's former Prime Minister Ehud Olmert has been freed from prison after being granted parole.
Olmert was seen leaving jail near Tel Aviv early on Sunday morning shortly before being driven away.
The 71-year-old was granted early release last week by a parole board after serving 16 of his 27-month corruption sentence.
Olmert was convicted in 2014 for accepting bribes to promote a real-estate project while mayor of Jerusalem and trade minister.
He became prime minister in 2006 but resigned three years later after police recommended charges be filed against him.
His departure ended the last major Israeli-Palestinian peace efforts and ushered in the era of Benjamin Netanyahu in 2009.