India divided over 'GST' sweeping sales tax reform
Comments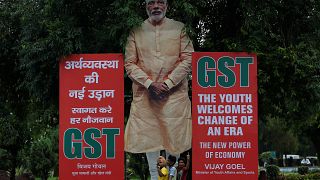 A sales tax revolution took effect in India on Saturday after a midnight ceremony in parliament.
Prime Minister Narendra Modi and President Pranab Mukherjee together launched the new Goods and Services Tax (GST) by pressing a button.
The nationwide system replaces a complex set of federal and state levies and is India's biggest tax reform in the 70 years since independence from British colonial rule.
The aim is to harmonise the economy, simplify and modernise business and fuel growth – moves that would boost Modi's credentials before a planned re-election bid in 2019.
"With GST, the dream of 'One India, Great India' will come true," Modi said.
He told a select gathering that the tax was a catalyst to "remove the imbalance in trade in the country" and "give a boost to the promotion of exports".
Friendly towards the common citizen, advantageous for industry, a simple tax structure & economic integration…here is more about GST. pic.twitter.com/EbuhuUKSsN

— Narendra Modi (@narendramodi) 1 juillet 2017
Modi was joined by his cabinet colleagues, India's central bank chief, a former prime minister and major company executives including Ratan Tata.
The launch, however, was boycotted by several opposition parties including the Congress Party, which first proposed the tax reform before it fell from power three years ago.
Former Prime Minister Manmohan Singh – the architect of India's economic reforms – also gave it a miss.
Some small business owners are also nervous about the changes and a number of shops lowered their shutters in protest.
Far from making life easier, critics say the new system is complex and confusing with different rates and numerous exemptions.
It has taken 14 years for the new sales tax to come into being.
Compliance is feared to be a major challenge in a country where many entrepreneurs are not computer literate and rely on handwritten ledgers.
Poor implementation would deal a blow to an economy that is still recovering from Modi's decision late last year to outlaw 86 percent of the currency in circulation.
Consumers are also feeling uncertain – not knowing what the new sales tax would do to prices.
Hence a frenzy to snap up bargains in India on the eve of its introduction.
India is bracing for economic chaos from the launch of PM Modi's big tax overhaul soon https://t.co/03wuZ7kM8lpic.twitter.com/RaxO5PLp6i

— Bloomberg (@business) 30 juin 2017
with Reuters