Brazil: unions strike as political crisis deepens
Comments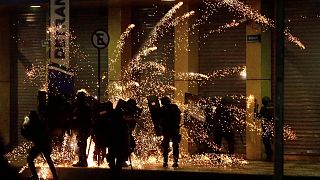 What began as a peaceful protest soon turned violent as activists in Brazil clashed with police on Friday during a nationwide strike and demonstration against scandal-hit President Michel Temer.
Security forces launched tear gas at protesters in Rio de Janeiro who hit back with fireworks.
Unions are seeking to stop Temer's unpopular administration from pushing a series of changes to labour and pension laws through Congress.
One street vendor in Rio said: "I am selling less and less popcorn. Since Temer came in, things are getting worse."
Unions also took to the streets of Sao Paulo, bringing the mega-city to a standstill.
Temer, whose embattled government has an approval rating in single digits, has resisted repeated calls to go, despite being accused of taking bribes.
Earlier this week prosecutors charged him with corruption.