Rim Song-sim shines for North Korea at Hohhot Grand Prix
Comments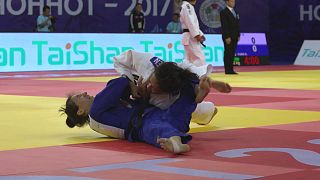 The Hohhot Cancun Grand Prix in China, the final IJF World Judo Tour event before the 2017 Suzuki World Judo Championships in Budapest in August, crowned five gold medallists on day one as the lightweights took centre stage.
Japan walked away with two golds with one each for Russia, North Korea and South Korea.
It was the scene of some fantastic judo and fabulous throws.
Man of the day
In the under 66 kg category, Yakub Shamilov was our man of the day with a superb ippon in round one against Hong Kong's Lee Yuk Ting
In the final, Abu Dhabi Grand Slam winner Shamilov scored a waza ari from a beautiful Morote seoi nage to neutralise the threat from Ukraine's Georgii Zantaraia, the 2009 world champion and 2017 European Championships winner.
The Russian was clearly delighted that his tactics worked:
"I am really happy to have won. This was a tough fight, I had to give the best I could and I made it. It's not the first time that I have fought with Zantaraia. In the final, my idea was to finish with the left-side throw, and it worked!
Woman of the day
Our woman of the day was Rim Song Sim of North Korea in the under-52kg category. Rim became the only the third Grand Prix winner from her county as she followed in the footsteps of Sol Kyong and Kuk Hyon-Hong.
She had the measure of Canada's Ecaterina Guica and settled the contest with a textbook Yoko Tomoe Nage to capture her country's first medal in Hohhot.
Ippon of the day
Our ippon of the day came in the under-57 kg bronze medal contest between Viola Waechter of Germany and Margriet Bergstra of the Netherlands. Waechter was the eventual winner with a sublime Uchimata ippon.
Waechter explained why she loves the Uchimata: So, it's my favourite technique, and I like it a lot. And I guess I am a bit more flexible than other people and it's a good feeling if you throw like that.
The best of the rest
Tamaoki Momo of Japan made the most of her first IJF competition in 2017 as she won all five of her contests in Hohhot to come away with gold But the under-57kg category final against Sumiya Dorjsuren of Mongolia was a strange affair.
Tamaoki scored a waza ari …. then Dorjsuren equalised to send contest into golden score
But then both were penalised, which meant Dorjsuren was disqualified for receiving three penalties in total.
Asian Championships bronze medallist Kanf Yu-Jeong won her first Grand Prix gold medal as her country's new batch of judoka made a promising start in Hohhot.
The South Korean won by waza ari against Irina Dolgova of Russia
In the 60kg category gold medallist Shishime Toru of Japan stuck with his dependable ashi-waza to down Dashdavaa Amartuvshin of mongolia to win by ippon
Stay tuned for day two and some fabulous judo from the Hohhot Grand Prix in China