Hong Kong's model 'will not change'
Comments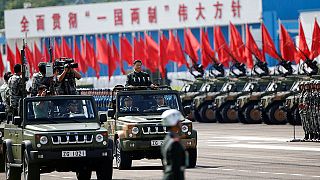 The president of China says the 'one country, two systems' model of governance for Hong Kong will not change.
Xi Jinping spoke at a banquet on the eve of the 20th anniversary of the handover of the former British colony to China.
"Persisting in thoroughly implementing the 'one country, two systems' policy, Hong Kong being governed by Hong Kongers, concentrating all our attention on seeking development with one heart and one mind and struggling together, these factors will definitely result in an even better tomorrow for Hong Kong."
Xi's visit comes amid heightened tension between China and Hong Kong. Many in the former colony are concerned at what they see as increased interference by Beijing in local affairs, despite the promise of wide-ranging autonomy under the 'two systems' agreement.
His comments come as China's Foreign Ministry said the joint declaration with the UK over Hong Kong was a historical document that no longer had any practical significance.