Mexican journalists protest murdered colleagues
Comments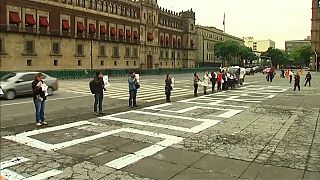 A group of journalist in the Mexican capital paint SOSPRESS outside the National Palace to protest the killing of their colleagues.
Earlier this week the remains of local television journalist Salvador Adame were found. He had been missing since being abducted by gunmen in May.
The Committee to Protect Journalists ranks Mexico as the most dangerous country for reporters.
At least four others have been killed this year in direct retaliation for their work.
"We have many cases of journalists who have had to leave the country, who do not feel safe and really the picture is still dark," explained independent journalist Ana Lucia Altamirano.
"We don't have an answer. We do not have security to work. The working conditions we journalists have, even when talking about salaries, to security conditions and physical protection are unheard of so that is what we are demanding."
In May, a Mexican reporter working to expose drug trafficking and organised crime was gunned down.
Javier Valdez had also published a book about the dangers facing journalists who report honestly about on the rampant crime and corruption gripping Mexico.
A lack of political will to end impunity exposes Mexico as one of the most dangerous countries for jouros worldwide.https://t.co/oieC05tDKs

—

CPJ

(@pressfreedom) May 3, 2017