Chile rejoices in Confederations Cup win
Comments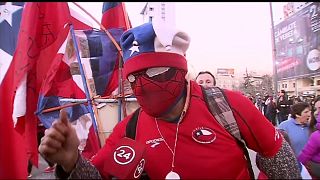 It seems the whole of Chile was watching their Confederations Cup semi final against Portugal on Wednesday night,
from the government assembled for the match to the Chilean people, who gathered around televisions to bite
theri nails in an exciting end-to-end encounter.
It went down to a penalty shootout, with goalkeeper Claudio Bravo the hero
of the hour for saving not one but three penalties. The stunned Portuguese, European champions, could only look on, aghast.
"He hadn't played for 60 days, but there he was, he put on the Chilean shirt, and played with the heart and the team, and as captain.
So I congratulate all of them, because we are in needed in the country for all the misfortunes that have happened and
the only thing that gives us happiness is the national team," said one delighted fan.
The streets of Santiago erupted in joy, with cars flying the flag and impromptu parties popping up everywhere.