Mafia suspected in Sicily 'death ambulances' investigation
Comments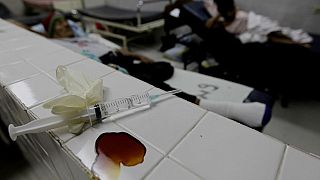 Sicilian police are investigating claims that ambulance staff deliberately killed sick patients in order to earn kickbacks from funeral businesses.
The allegations, which centre on the town of Biancavilla, around 30 km far from Catania, at the foot of Mount Etna, emerged when a whistleblower appeared on an Italian TV show. Dozens of deaths since 2012, which occurred as patients were being transferred to the Santissima Addolorata Hospital, have been linked to the scam.
Last week, an official investigation was opened, led by the region's deputy prosecutor Andrea Bonomo.
The informant claims that private ambulance staff injected air into the veins of patients which resulted in blockages in their circulatory systems and subsequent death by organ failure.
Clues to the motivation behind the alleged killings lie in past inquiries in the region that revealed that hospital employees were tipping off funeral agencies with the identities of terminally ill patients in order to help them win business.
A successful tip off could be worth around €300.
Italian law aims to protect families by dictating that any choice of funeral home can only be made by the deceased's relatives on the premises itself. But in practice, distraught families are easily exploited. Funeral costs in the area start at €1,100 and can rise significantly once additional elements such as the hearse are taken into account.
The extent and organisation of the networks has naturally led to suspicions falling on the local Mafia, who would be unlikely to allow any other criminals to profit from such a lucrative trade.
Nevertheless, the accusations for the meantime remain nothing more than suspicions, but the Catanian hospital agency is taking them seriously enough to have opened its own internal inquiry. Contacted by Euronews, the president of the Italian association of ambulance technicians said he was unable to comment on the ongoing investigation.
There is no suggestion that the Santissima Addolorata hospital was aware of the scam and the management has said that if the accusations are proven it would be pursing civil action against those involved for the damage to its own reputation.