Football for Friendship forum unites 64 young journalists from around the world
Comments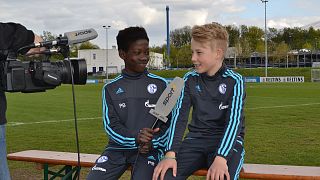 Aspiring young journalists from 64 countries have gathered in St Petersburg to cover the fifth Football for Friendship forum.
The International Children's Football for Friendship Forum, or F4F, is social project organised by Gazprom which uses the global love of football to promote humanitarian values and bring together young people from different cultures around the world.
The event gathers young players from 64 countries – 32 in Europe, 18 in Asia, 7 in Africa, 5 in South America and 2 in North America.
Emily and Lauren representing USA & KMOXSports</a> and <a href="https://twitter.com/KMOV">KMOV from Helsinki on way to St. Petersburg for Football for Friendship! #F4Fpic.twitter.com/bwXxVKKbLd

— Chris Kerber (@chriskerber) 26 juin 2017
The young reporters, chosen by their countries to cover the event, will act as press attaches for their national teams. They will be responsible for holding press conferences and raising awareness of the project by writing articles and producing video clips, along with other content for social media platforms. They will also get the opportunity to meet football stars, international journalists and even political figures.
"The main goal of the programme is to introduce young generations to the Nine Values of the F4F, that are the basis of the whole program with the most important among them: Friendship, Equality and Peace," said F4F's global director Vladimir Serov.
Welcome to the second day of The International Friendship Camp! #F4F#FOOTBALL4FRIENDSHIPpic.twitter.com/g5Wlwei5Jd

— FOOTBALL4FRIENDSHIP (@Football4F) 28 juin 2017
For the hopeful journalists, the core values at the heart of the F4F have been a key topic during their coverage of the event, with many of their interview questions focusing on the players' personal backgrounds and the friendships made during the project.
"I believe that the opportunity to participate in the Football for Friendship project this year in Russia will awaken all kids… I want to bring many good stories about the event and my participation as a young journalist. I also want to bring friendship to other children who will participate. I hope that we can remain friends and keep in touch with all participants by the internet, it can help make the world better and more human", said Eduardo Moreira Borges, a young journalist from Brazil.
The event is not only an opportunity for twelve-year-olds to experience working in the media, it's also a chance for children from all over the world to be heard by adults. Some of their work will even be picked up by the media in their own countries.