UK: 34 tower blocks fail fire safety tests
Comments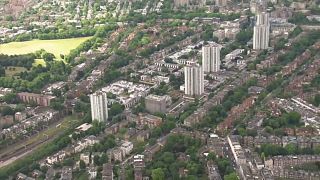 Britain's housing safety scandal is getting worse by the hour as more tower blocks fail the fire safety checks carried out after the deadly Grenfell tower blaze.
The government said on Saturday (June 24) that 34 apartment blocks had failed tests in 17 parts of the country, from London in the southeast to Manchester in the north and Plymouth on the southwest coast.
Every single building cladding sample so far has failed the tests, said Sajid Javid, Secretary of State for Communities and Local Government.
"Nowhere to go"
In north London, thousands of residents were forced on Friday to evacuate their homes at very short notice.
In Camden, the London Fire Brigade raised concerns about insulation material, faulty fire doors and holes in walls that could help a fire to spread. The local council says it could take up to four weeks to repair the buildings.
"We've got nowhere to go. We've been told that they're sending people to Hackney, all over the place, people in hotels. But I don't know nothing, no one's really told us what's going on," one resident said.
"People have had to decide, you know, in a few minutes you know, all their possessions, what to do with them, what they might need, I don't know, for an indefinite period of time," said a woman.
Outside cladding is the focus of investigations into why the Grenfell blaze spread so quickly – trapping residents in their sleep and killing at least 79 people in London's deadliest fire since World War Two.
Nationwide threat
In a statement, Labour leader Jeremy Corbyn reacted to the test results: "This is now a nationwide threat and the Prime Minister needs to get a grip and lead a national response, including convening the Cobra committee to coordinate Government and public action," he said.
My thoughts are with all those residents affected by the evacuation of tower blocks in Camden. #GrenfellTowerpic.twitter.com/fIN2Hr4NO6

— Jeremy Corbyn (@jeremycorbyn) June 24, 2017
Prime Minister Theresa May, who was forced to apologise for the government's initial slow response to the tragedy, said authorities were now racing to establish what needed to be done.
"In some cases it's possible to take mitigating action," she told Sky news. "In others it's been necessary for people to move out on a temporary basis and that is what happened in Camden last night.
She added that the Government would ensure councils take "immediate action" over the failed tests, adding: "Absolutely our first priority is people's safety".
"What is needed to keep people safe is being done" says Prime Minister theresa_may</a> responding to the <a href="https://twitter.com/hashtag/Camden?src=hash">#Camden</a> estate evacuation <a href="https://t.co/PqcNPWoZLP">pic.twitter.com/PqcNPWoZLP</a></p>— Sky News (SkyNews) June 24, 2017