Yemen: UN warns warring sides over civilian deaths
Comments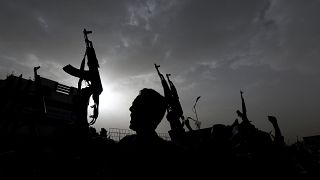 The United Nations has issued a stark warning to the warring sides in Yemen's conflict over civilian deaths.
The world's so-called 'forgotten war' has killed more than 10,000 people, many of them civilians.
The UN says that over the past month alone, at least 49 civilians lost their lies in a string of indiscriminate shelling attacks on public spaces and markets as Iran-allied Houthi forces battle a Saudi-led Arab alliance.
In a press briefing in Geneva, Spokesperson for the UN High Commissioner for Human Rights, Ravina Shamdasani, said:
"During the more than two years since the conflict in Yemen began, marketplaces have been struck a number of times, causing loss of civilian lives. We recall that indiscriminate or disproportionate attacks or attacks targeting civilian objects such as markets are prohibited under international humanitarian law."
At least 49 civilians killed in indiscriminate shelling in #Yemen.

IHL prohibits attacks targeting civilian objects - @UNHumanRights spox pic.twitter.com/jPLeHUzlYv

— UN Geneva (@UNGeneva) 23 juin 2017
What is more, a cholera outbreak, caused by the contamination of water or food by faeces, is fast approaching 300,000 cases.
By the end of August, UNICEF's @RelanoMeritxell expects the cholera suspected case could reach 300k across #Yemenhttps://t.co/vWAAJLNtRt

— UNICEF Yemen (@UNICEF_Yemen) 23 juin 2017
UN humanitarian chief Stephen O'Brien says it is a "man-made catastrophe" caused by Yemen's warring sides and their international backers.
Some 1,300 people have died, a quarter of them children.
The number of suspected #cholera cases in #Yemen has now surpassed 200,000 with 1,310 associated deaths. pic.twitter.com/dXNtjJhEvD

— WHO Yemen (@WHOYemen) 24 juin 2017
Heba, 1 & ½ years old #Cholera affected little girl, is receiving
the treatment @ICRC_ye supported Cholera treatment center in #Sanaa. pic.twitter.com/3uaIHtx4xD

— ICRC Yemen (@ICRC_ye) 19 juin 2017
with Reuters