Dutch journalists freed by Colombian rebels
Comments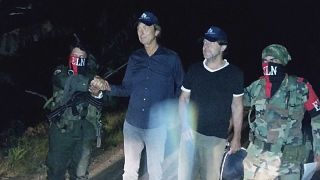 Marxist rebels in Colombia say they have freed two Dutch journalists captured five days ago in the country's northeast.
The ELN group says the TV reporter, Derk Bolt, and a cameraman, Eugenio Follender, were released in what they describe as "perfect condition".
The pair was snatched in El Tarra in Norte de Santander on Monday.
The ELN, the country's second biggest rebel group, often kidnaps Colombians and foreigners for ransom and political leverage.
Last year the ELN seized a Spanish journalist, freeing her six days later.
The rebels are in talks with the government to put an end to more than five decades of war.
The FARC rebel group signed a peace deal last year and is now handing in its weapons.