Skirting the issue: schoolboys attend class in skirts during heatwave
Comments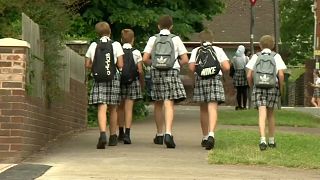 In an effort to stay cool, a group of British students have defied their school dress code as well as gender norms by wearing skirts to protest a rule against shorts.
Julia, one the student's parents said: "My son personally is coming home very, very hot kind of thing and he's struggling at school and he's quite irritable and stuff like that. So I think they should be able to wear shorts if they want to, I don't see why that should be a problem. So I think in terms of them wearing skirts because that's what they are allowed to wear I think that's great, it's brilliant to protest and say okay then if we are not allowed to wear that, then we will wear skirts. Good on 'em."
Boys at Isca Academy in Exeter wear skirts to school in protest at not being allowed to wear shorts in hot weather. pic.twitter.com/XHrffnSQEN

— Simon Hall (@SimonHallNews) 22 juin 2017
And most at the Exeter Academy seem to be on board.
One boy said: "[Girls] are allowed to wear skirts all years round, they get cold legs and we have to sit there sweating."
And the female students are just as supportive.
One said: "I think it's good if they can't wear shorts then they have to wear skirts. I don't think it's right for them to be told off for having hairy legs though."
With Wednesday marking the hottest June day for decades in Britain, these boys aren't skirting the issue.